EFFECTIVE TEACHING
By Tasoni Mary Boules, St. Mary & St. Verena Coptic Orthodox Church
In order to become an effective teacher, the key element is PREPAREDNESS. Many of us, as we prepare the lesson, don't know exactly what to include and/or how to present it. Luckily, there is an essential tool that can guide new as well as older servants in becoming more effective!
This tool is the LESSON PLAN; it is a step-by-step outline of how the lesson is going to be conducted!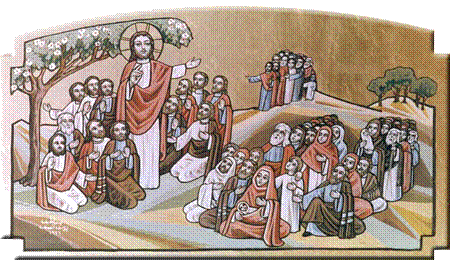 A lesson plan consists of 7 key parts, which are:
1. Objective/Goal
2. Set Inductive Activity
3. Anticipatory Set
4. Instructional Input/Activity
5. Closure (review)
6. Resources/Sources
7. Evaluation (presenter and students)
a. Students: Test/Quiz
b. Students: Reactions/gestures
c. Presenter
THE LESSON PLAN IN DETAIL
STEP 1
AIM (very broad): General expressions of values that provide a sense of direction, (Borich, 70)
NOT USED WHEN WRITING A LESSON PLAN!!
e.g. Every adult should be functionally literate.
GOAL: More specific than aim. Goals relate to a general aim (bring aims down to earth), (Borich, 70)
MAY OR MAY NOT BE INCLUDED IN THE LESSON PLAN.
e.g. Students should be able to read and write well enough to become gainfully employed.
OBJECTIVE: Carry goal one step further. It describes specific behavior the learner is to attain, conditions under which the behavior must be demonstrated and the proficiency level at which the behavior is to be performed, (Borich, 71).
NEEDS TO BE INCLUDED IN EVERY LESSON PLAN!
e.g. Students will, at the end of the 12th grade, be able to write a 500 word essay with no more than 2 grammatical and punctuation errors.
STEP 2
SET INDUCTION
This is a type of an activity that will allow the students to become in the "MOOD" to listen to us. This could be in the form of a review of last week's lesson, a hymn, a quiz, journal writing*, or simply a chat with the class about anything to get them to focus on the speaker.
* recommended for older grades (7 through12)
STEP 3
ANTICIPATORY SET
Now, that we got them focused on us, give them a reason to listen to us; catch them by surprise! Ask them open ended questions regarding our subject (of the day) for abstract ideas. Do a demonstration; for example, ask students to role play as disciples, etc... The more senses we use, the better!!!
STEP 4
INSTRUCTIONAL ACTIVITY
This is a schedule that we use so that our time is allocated properly. Many of us like to talk, talk and talk, whether or not the students are listening. At this point, look for signs/reactions and ask yourself: Do they seem to understand? Are they confused? Are we talking over their heads with difficult vocabulary words? Are they bored and not amused? etc...
Many of us feel the need to talk the whole time in the class and that's o.k. for higher level thinkers. But for students in High School and under, we need to allow the students to interact with each other. Tell them to discuss their ideas with their neighbor; it's o.k. to share!! Also, we as teachers feel content when the class is quiet and the students are sitting still. However, that behavior is not indicative of the students' comprehension level. Please look for signs by asking questions and involving them in the discussion, etc... The instructional activity is to aid you, and in turn the students will benefit from the variety of techniques that will be presented. Remember, your students' attention span is approximately 12-15 minutes, so after a certain point, they tune us out; so keep them interactive, busy, and most of all, thinking!
STEP 5
CLOSURE
Allocate this time for Review/Questions of the lesson (main points only). You may at this point, assign the Bible readings, exercises, and meditations. The students will feel a sense of closure and the lesson will hopefully become retained in their minds. Remember, a successful teacher will:
1. Tell the students what they are going to talk about,
2. Talk about it and,
3. Tell them what he/she has talked about!
STEP 6
RESOURCES/SOURCES
In this section of the lesson plan, we are to write down any materials (resources) that are needed for that specific lesson, such as videos or any type of demonstration materials needed. Also write down the source of your lesson; for example, write down the Bible readings, videos, holy books (Paradise of the Holy Fathers, etc...). Remember, you're creating a resource notebook, so when down the line you are preparing a lesson, you may look at your lesson plan and modify it to that specific class; don't reinvent the wheel!!!
STEP 7
EVALUATION
In this section, the evaluation portion is critical and is subdivided into three parts:
a. Test/Quiz/Essay: Make the students feel accountable for their work by demonstrating it on paper (don't emphasize a TEST or many students will not show up the following week - it's not supposed to be a punishment).
b. Throughout the lesson, ask yourself (not out loud): Am I reaching my students? Am I engaging them in the lesson? Also, look at their faces for signs and their body gestures; are they paying attention, or are they trying to tell you something (like STOP!)?
c. Finally, evaluate yourself. Did you feel effective? (this is the tricky part) Ask yourself (you may ask out loud if you are alone): If I had to do this lesson all over to a new group of students, what would I change? What would I modify and what was successful? Basically, what worked and what didn't.
THE SEVEN KEY PARTS TO A LESSON PLAN
1. OBJECTIVE/GOAL
2. SET INDUCTIVE ACTIVITY
3. ANTICIPATORY SET
4. INSTRUCTIONAL INPUT/ACTIVITY
5. CLOSURE (REVIEW)
6. RESOURCES/SOURCES
7. EVALUATION
a.
b.
c.